We are where Steyr is most beautiful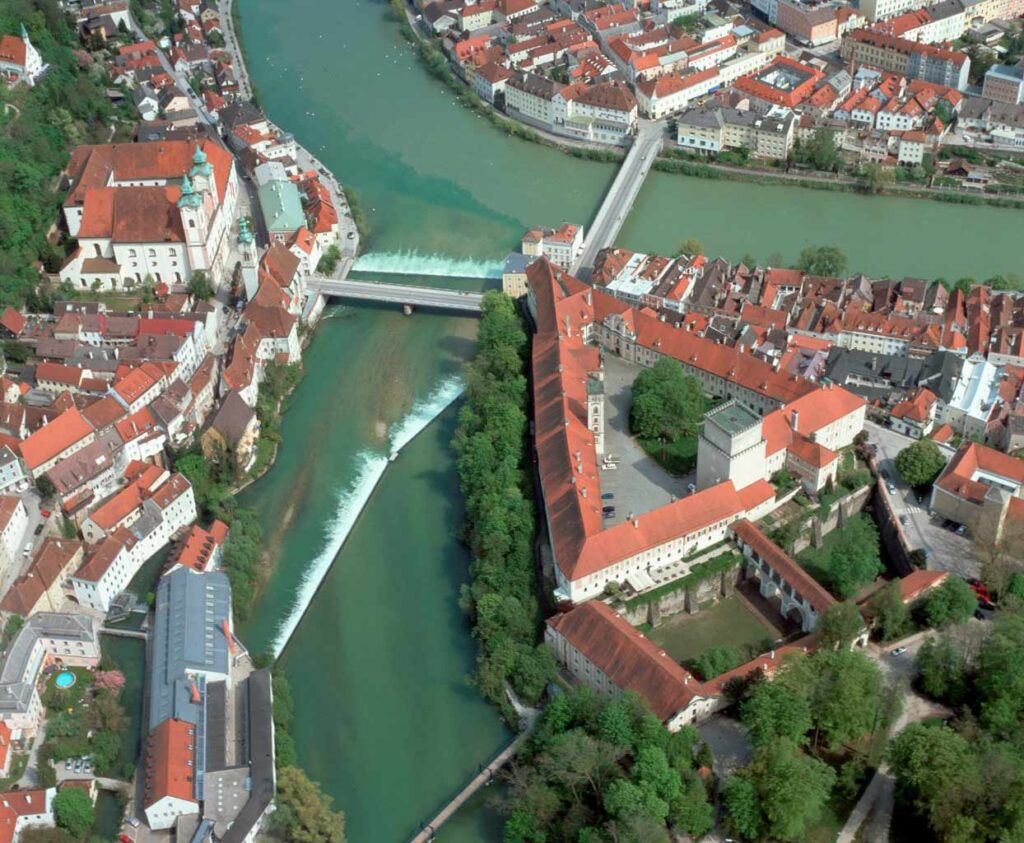 PARISH CHURCH
STEYR-ST. MICHAEL
CASTLE MOAT
STEYR MUSIC FESTIVAL
We are a traditional hotel and restaurant business and are located in what is probably the most beautiful place in the more than 1000-year-old city of Steyr – right at the confluence of the Enns and Steyr.
You can walk to the entire old town from us.
Our house:


Built in 1543 and always in commercial use:
Host and baker's license, tailoring and fishmonger's shop.
Zipfer brewery and inn from 1919 to 1933, run by the Jurcic family.
From 1933 a hotel owned by the Minichmayr family.
The company name has remained the same to this day, as it is already known all over the world.
The hotel has been owned by the Viertler family since 1978.
The house has been expanded into a beautiful, comfortable and international 4-star hotel and restaurant with 85 beds and 200 seats in the panorama restaurants of Enns & Steyr and the hand-carved, cozy Flösserstube.
Generous renovations are constantly being carried out.
Celebrities from all over the world – from high politics, as well as business, industry and the international art and culture scene – come and go here.
With great attention to detail, the business and romantic rooms, bridal suites and romantic studios have been furnished with every feel-good comfort.
A spacious, multifunctional and unique event and business center with the latest technology for seminars and conferences was built.
The panorama wellness oasis is available to all guests to relax and enjoy: infrared cabin, sauna with color light therapy and aroma steam bath, panorama whirlpool, top solarium, cross trainer fitness wheel, relaxation and meditation room. A first-class retreat in a relaxed atmosphere awaits you.
Special recommendation and membership in these hotel and restaurant guides:
AMA Gastrosiegel, Chaîne des Rotisseurs, Gault Millau, À la carte, Falstaff Gourmet Club (voting code 0150), Better Food and Travel, AvD, Michelin, Small Historic Towns, Fodor's Travel Guide, The Big Restaurant & Hotel, Eating Out in Austria, Europe's Travel Book, Karen Brown Guide, Schlummer Atlas, and many more


The tour through and around our house
The Hotel Minichmayr introduces itself
Steyr - a journey that is worthwhile
Get to know the Hotel Minichmayr better. This film also shows quite well how closely our house is connected to Steyr and its history and geography. Enjoy the views of the 1000 year old city in all seasons.
Perhaps you would like to get to know this beautiful city and us.
Heinz Fischer - Federal President aD
Mike Susser - celebrity chef
Wolfgang Fasching - extreme athlete
Prince Fritz & Princess Bea
of Thurn and Taxis
popular actors -
during shooting in Steyr