If you get married in Steyr and celebrate your wedding at the Hotel Minichmayr, you can simply expect more. Not just a romantic city that invites you to spend the most beautiful day here with historic buildings on two rivers. But also hosts and employees who really care about your well-being.
Whether in our beautiful bridal suites or our panorama restaurant, the Art Nouveau bar or in the ballroom, a successful ambience in the most pleasant atmosphere is guaranteed.
We offer romantic hospitality with first class comfort.
It's not a day, it's THE day of your life. Don't leave anything to chance, trust in our experience.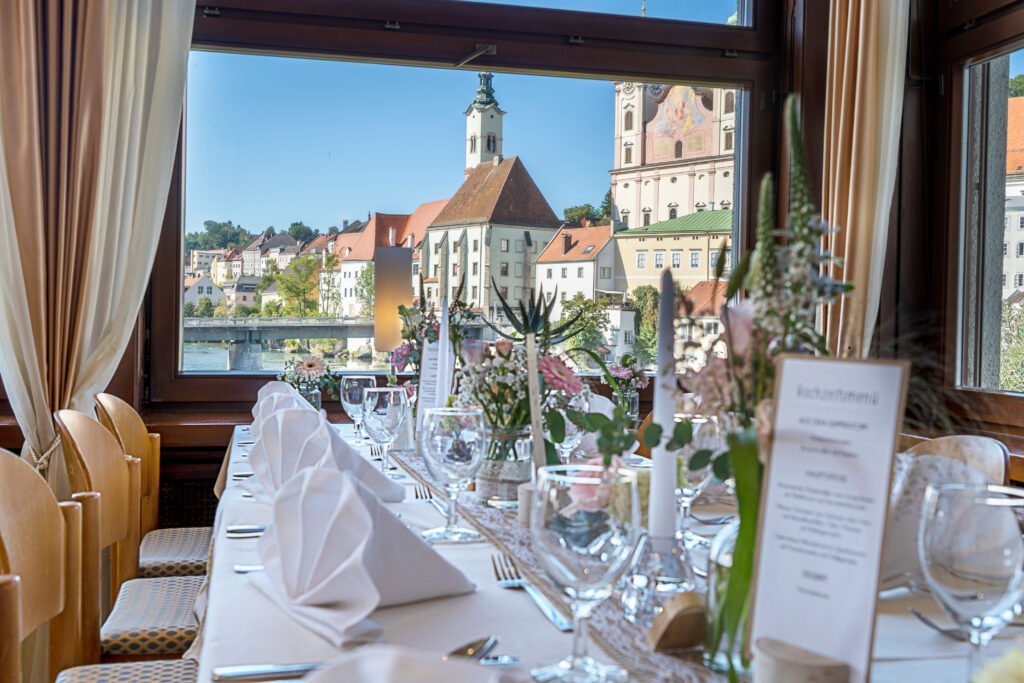 Our panorama restaurant and our new ballroom offer the ideal and festive setting for your wedding celebration. If desired, the rooms can also be connected to one another. Both rooms allow a magnificent view of the confluence of the Enns and Steyr as well as the fairytale backdrop of the old town.
From a small-scale wedding celebration to a wedding party of 200 people, we offer all possibilities.

The 1000-year-old romantic town of Steyr is made for a wedding. A historic registry office, as beautiful as a film set in a castle that was first mentioned as a castle in 985. Today, Lamberg Castle is a beautifully restored magnificent building and the elevated center of Steyr. Only separated from the Hotel Minichmayr by the Enns Bridge and part of the breathtaking panoramic view.
Just a little further across the Steyr Bridge is the Michaelerkirche, built between 1630 and 1678, whose interior is characterized by late Baroque and Classicism. The Michaelerkirche is also part of the all-round view of the confluence.
And only 280 meters away as the crow flies is the historic evangelical church .
Our hotel is, so to speak, the center of a geographic wedding circle.


The culinary offer ranges from seasonal wedding dinners, national & international multi-course celebratory menus to specialty buffets.
We offer our guests personal attention and comfort.
First-class cuisine and personal management by the family as owners characterize our house.


You should think about this before the wedding
Order a ban at the registry office
More accurate budget planning
In the case of a church wedding, make an appointment with the pastor
Arrange a marriage interview with the pastor
Set a date for church
Order organists for the wedding
Define the outer framework of the wedding
Who are the groomsmen
Create guest list
Choose bridesmaids
Where is the wedding celebrated?
make menu choices
Clarify menu cards and place cards
Possibly order rooms for external guests
Select and print invitation cards and wedding announcements
Choose wedding rings, measure size, have name and date engraved
Wedding gifts (morning gift)
Set wedding wardrobe for bride and groom
Compile a gift wish list
Order a photographer
Design and send save-the-date cards to wedding guests
Order a wedding car, limousine or carriage
Bunch of flowers
Bouquets for children and groomsmen
Flower decorations for cars
The wedding calendar of the registry office Steyr